Squids 3011 Retractable Tool Lanyard with Carabiner Mount (8LBS / 3.6KG)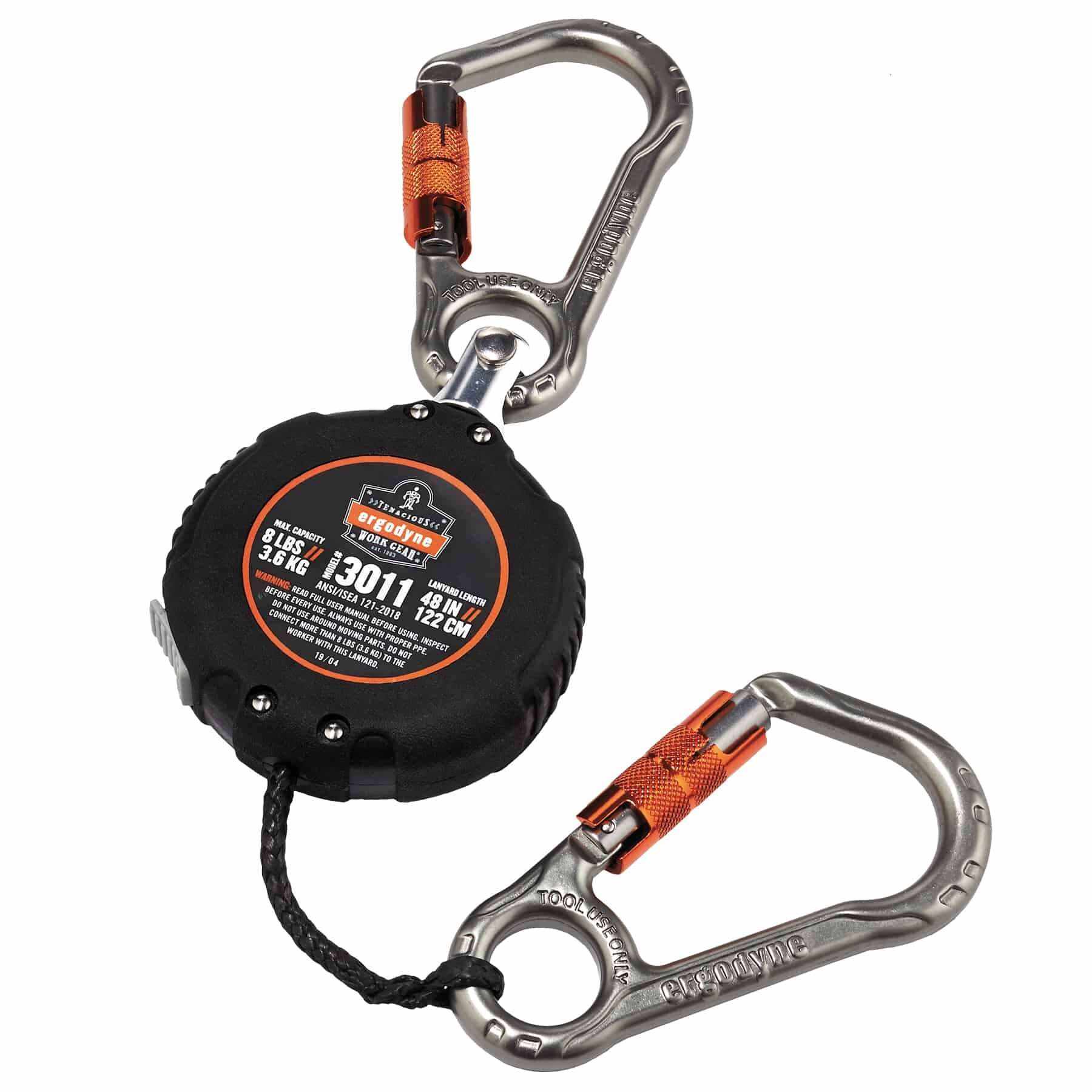 The Squids® 3011 Retractable Tool Lanyard is a lightweight and extremely durable tethering solution designed to mount to a D-ring on, for example, a user's utility belt, or a separate anchor point. Using a retractable lanyard limits potential snag hazards compared to standard lanyards. This lanyard can tether tools weighing 0.5lbs / 0.23kg in a retracted state and prevents tools weighing 8lbs / 3.6 kg from falling on people or objects below when working at heights.
The retractable tethering cord is made of high-strength, cut-resistant Dyneema® with a protective sleeve over the exposed cord to reduce wear and tear for a longer life. The durable ABS plastic housing is textured for better grip and is designed to protect the internal workings. There is a tapered cord exit to limit the debris being retracted back into the housing with the cord. Even with its incredible durability this heavy-duty retractable lanyard weighs less than 0.5lb / 0.23kg and measures 48in / 122cm when fully extended.
HOW TO USE
This retractable lanyard features a swiveling carabiner connection for anchoring to D-rings or other locations. The connecting end of the cord has a patented Squids® double-action carabiner to secure to a hand tool weighing up to 8lbs / 3.6 kg.
A trigger switch allows you to set your working length and keep the lanyard at a fixed length, so you don't feel a constant tension on your tool while getting the job done. To lock the cord in place, simply flip the trigger switch at the desired cord length. To retract, either flip the switch back or pull the lanyard out a bit further to release the lock allowing the cord to retract again.
TESTED & APPROVED
Tested and qualified to the ANSI/ISEA 121 Standard, these retractable tool lanyards have no equal. The tethering cord is designed to expose a red length of cord that serves as an impact indicator if the lanyard sees a force of 110lbs / 50 kg or greater, letting you know if a drop has occurred.
All tool lanyards are built to withstand defined weight limits and are easy to use by any worker to avoid accidentally dropped objects that could cause damage, injuries or even death. Safety lanyards are a part of an overall fall protection plan to reduce the risk of falling objects and increase workplace safety. When working at heights it is critical to tether tools.
Squids® 3011 Retractable Tool Lanyard with Carabiner Mount
PREVENT DROPPED HAND TOOLS – Patented lightweight aluminum carabiner with double action self-locking gate connects to tools like wrenches, grinders, drills, impact drivers, etc.
MADE TO TETHER TOOLS – Tether keeps tools weighing 0.5lbs/0.23kg in a retracted state and prevents tools weighing 8lbs/3.6kg from falling on people or objects below.
INDUSTRIAL GRADE // MADE FOR INDUSTRY PROS – ABS plastic housing protects the internal components and has a cut-resistant Dyneema® cord with a durable protected weave for the toughest environments
LIGHTWEIGHT + LOW PROFILE DESIGN – Weighs less than 0.5lbs / 0.23kg, retractable design limits snags, tangles and trip hazards
SWIVELING DESIGN – Swiveling anchor end of lanyard works well with rotating tools to reduce tangles
LOCKS INTO FIXED LENGTHS – Trigger switch locks cord into fixed lengths to take the tension out
IMPACT INDICATOR – A red cord is revealed when exposed to forces exceeding 110lbs / 50kg, letting the user know if a drop has occurred
THIRD PARTY CERTIFIED – Meets a 2:1 safety factor
TESTED & APPROVED – Third-party certified to meet the ANSI/ISEA 121-2018 Standard
| Item # | Size | Colour |
| --- | --- | --- |
| 19311 | Standard | Black |